Okay, I started this post back in April... but let's put it up anyway:
Over the last couple of days I've seen a few articles mentioning that the Great and Wonderful Obama is considering 'geo-engineering' to solve the Goresque problem of 'Climate Change'.
This includes intentionally spraying particulates into the upper atmosphere to reduce the amount of solar radiation penetrating to the Earth's surface, creating 'fake trees' to sequester CO2
Obama administration considers climate engineering
Obama adviser says radical tinkering needed to combat climate change
I'm thinking they are already doing this: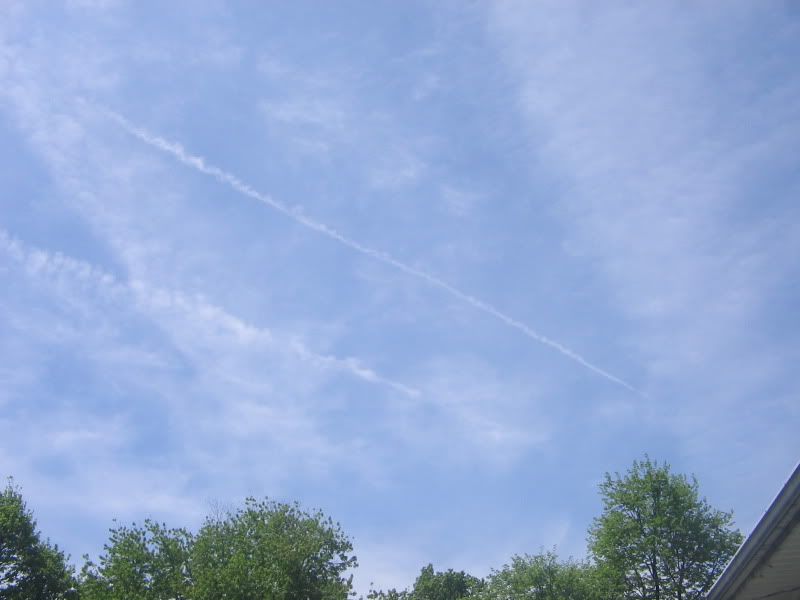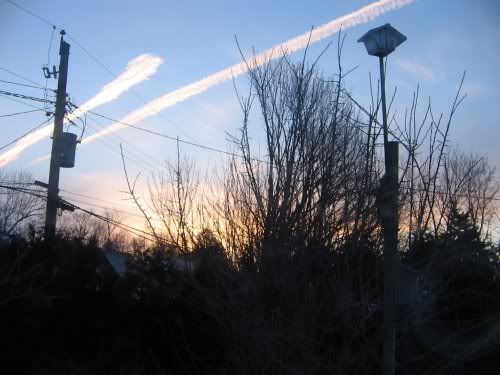 The above photos are just a few examples of what I see out my own window. The other night I happened to be outside at about 1:00 AM, highly unusual for me as I am not a night owl at all. We looked up at the shining moon - it was a sickly orange and lit up many of these trails webbing across it in the sky. Sadly, the pics I took didn't work out - am in no way a photographer. Needless to say it was very odd.
This is going on alot around here, usually in the mornings and the evenings. It's the same as so many others note - the day is clear and bright and by lunchtime everything is a haze. Also, the flightpaths are overwhelmingly east to west - flying nowhere near our airport. Now and again they will do the grid thing, as can be seen above.
So, are these ideas for weather modification bantered around above just a cover for something they have already been doing?
Who knows - but these 'contrails' aren't what they seem. I grew up on air bases, we used to watch the contrails often - they always disappeared. They did not block out the sun and spread all over the sky.
I don't know what these are, but normal they ain't.
I realise this is a military projection project, but you can check it out anyway:
Weather as a Force Multiplier: Owning the Weather in 2025